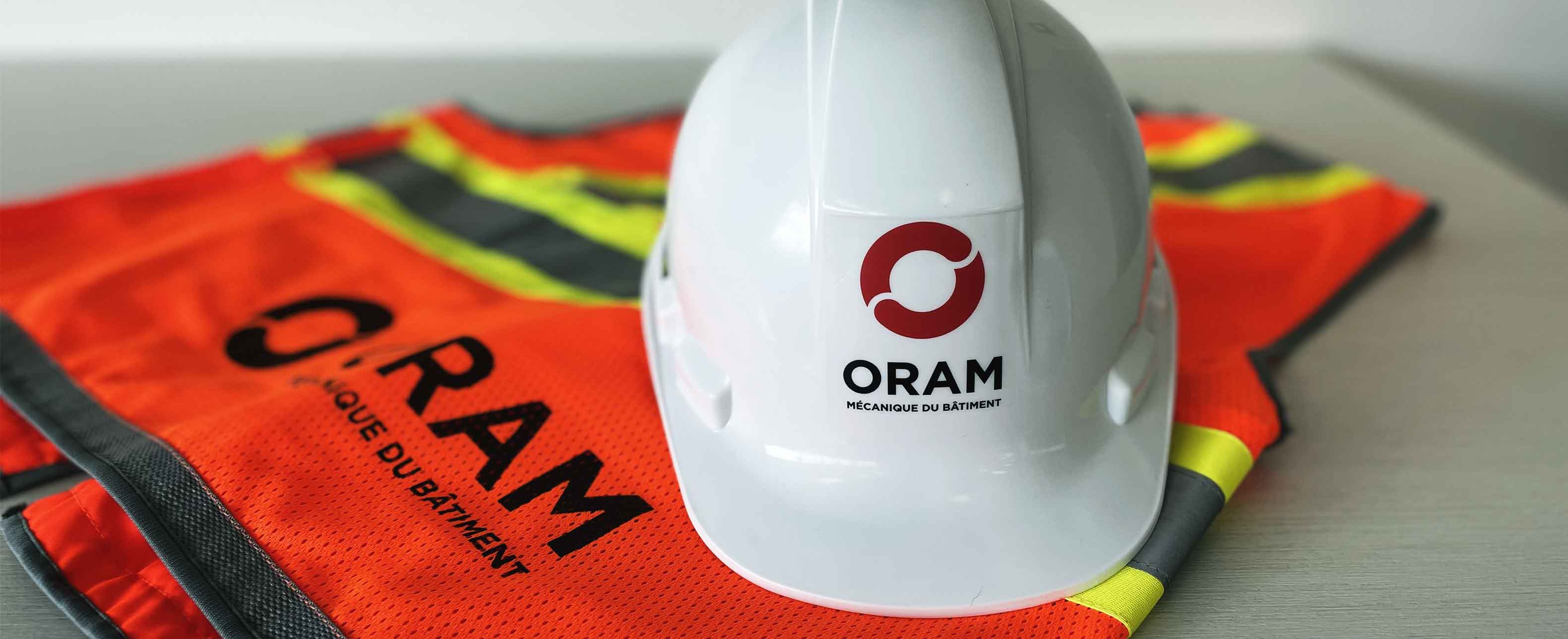 The ORAM Commercial Construction Team
Divisions
The very first residents of a recently completed build are getting the keys to their brand-new condos. They can't believe their luck with the location and love how contemporary the kitchen and bathroom look. It's exactly what they wanted! Wondering how the centralized water system performs or how efficient it is doesn't even cross their minds—it's a given that when they turn on their taps, perfectly hot water will just come out.
Nowadays, residents never think about these things because anything else would be unimaginable. But when it comes to providing and installing plumbing systems in large buildings that require more than a million BTUs per hour to heat their hot water in compliance with the strictest energy efficiency standards, or planning the installation of hundreds (or thousands) of taps so residents can simply turn one on without any issues, every step must be planned out, meticulously coordinated, and—it goes without saying—masterfully executed by the team on the build.
The Commercial Construction Department: Key to the ORAM Experience
Our Commercial Construction Department owes its singular expertise in this area to its well-oiled and skillfully managed team. ORAM's co-president Olivier Mongrain is currently the team's interim director. The department includes nearly 200 plumbers and apprentices, 30 forepersons, 6 project managers, and 3 general superintendents. Olivier's right-hand man is Félix Giroux-Renaud, Deputy Director of Commercial Construction and Value Engineering. Félix makes sure the management team is moving forward and working in sync, and that the forepersons and their on-site teams have the right instructions, skills, and procedures.
As the director of commercial construction, Olivier's role is to steer the department. He helps streamline department operations and job site management, encourages the team to adopt eco-friendly processes, and makes sure the team does meticulous work and performs rigorous quality controls to deliver the ORAM Experience.
A Well-Oiled Machine Ready to Take on Anything
Before construction even begins, many other teams have worked to design the systems and prepare for installation. The Commercial Construction Department brings these designs to life, and this teamwork is a core feature of the 360-degree approach that makes the ORAM Experience unique. But for all its fine-tuning, the team still has to overcome big challenges on every project. The current economic environment doesn't make things easier.
"Our company is growing fast, and it's our job to make sure we can deliver the same quality and service to our customers, despite industry-specific challenges like material supply chain issues and labour shortages," explained Stéphanie Savard, Vice President of Operations.
The ORAM executive team has its own unique challenges. It has to make sure every team member at every job site follows the procedures put in place to support growth. This means teams must be agile and flexible, as well as committed and motivated to work together right off the bat to deliver the best results. This team spirit has to be fostered and channelled to help ORAM reach its goals. The executive team has created initiatives to help manage and coordinate the commercial construction team as effectively as possible.
Internal organizational development coaches help forepersons hone their management, planning, and communication skills. Management team members may also receive individual development plans to work on. Both plumbers and apprentices can also take a variety of training courses to help master our preferred techniques.
Leveraging Our Own Innovation
We rely on innovative management techniques and initiatives we created to help us plan for the unplannable, coordinate projects better, and promote communication between our internal team and other departments, subcontractors, and customers. Our success has earned us a best managed companies award for two years in a row and a prestigious 2022 Mercuriades award for training and workforce development.
Technology also plays a key role in our fine-tuned operations. For example, we've adopted a web app that helps us release orders and access the documents we need to plan projects properly. We also install screens with an integrated computer and camera at job sites to help our forepersons work and make it easier to communicate and access information.
Skill and Pride: Two Keys to Success
We're working on amazing projects right now that our job site teams are really proud of, including the Maestria project, our largest project to date, which is being led by general superintendent Marco Cardinal. The sheer scale of this project—two 60-storey towers—means an enormous amount of coordination and planning.
It wouldn't be possible to bring a project like this to life without a project management team and forepersons who monitor every detail to make sure tasks and priorities are assigned as optimally as possible. They discuss site-specific challenges, plan material deliveries, coordinate and supervise on-site teams, and check the quality of our work. Our plumbers and apprentices have to install all systems and equipment per industry best practices and standards. Without all of these skills together, our team couldn't carry out projects this big.
The ORAM Experience on Tap
In 2024, when the first residents move into Maestria's luxurious towers and turn on their hot water, they'll be thrilled the taps fit the unit perfectly—and may take their comfort for granted. The developer, on the other hand, will be pleased to know they tapped into the full ORAM Experience, allowing their residents to use their faucets with confidence.
Are you interested in building something great on our fantastic team? Click here to learn more about how we embody the ORAM Experience on all our amazing projects!